The whale of Portovenere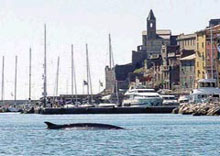 FOR THIS IMAGE THANKS TO ILSECOLOXIX
(PORTOVENERE - Liguria - Italy) - A 14 meters Fin Whale (30-40 years old) has chose the port of Portovenere, one of the most beautiful Italian spot, for her stay.
After 4 days in which she attracted the attention and the curiosity of many tourists and experts, that has examined her behaviour trying to understand the reasons of her choice and trying to give back her to the open sea, as she has appeared she went away. Children nicknamed her Banniblý.
In theese interesting days many has been the suppositions:
- the loss of right way
- the loss of her baby
- something like a beaching
- scratching herself on the stones of the bay
but perhaps the most interesting hypothesis is that she could be pregnant (perhaps she chose this sea because it's calm and peaceful), the noise of the engines and the attempts to give her back to the sea has not been enough, only when she decided to go away she made it.
The Cetacean Study Center of Florence and the La Spezia Nato Saclant Center has searched probing the studies of the "Balaenoptera Physalus".
Bye Bye Banniblý !!