Free Willy are you sure?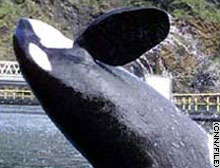 FOR THIS IMAGE THANKS TO CNN.COM
(OSLO - Norway) - The keiko story never ends. Captured near Iceland in 1979 when he was 2 years old. He spent 17 years in captivity (Canada and Mexico). After the 1993 sequel called "Free Willy" a world campaign for his liberation started. In 1996 he has rehabilitated at the Oregon Coast Acquarium in Newport, airlifted back to Iceland in 1998. After 3 years of teachings (how to katch fish and live in wild) in July 2002 he was released (the operation cost over $20 million). End of the story?
No.
After a long trip of 1400 Kilometers (870 miles) keiko appeared in a western Norvegian fjord (450 km. from Oslo). The bad thing is that he swim near the boats, accept fish and interact with men (swimming with childrens). Some experts say he will never return to wild, his confidence with umans could be dangerous for him, someone suggest to kill him, on the other hand someone suggest to capture him and put again in captivity (the Seaquarium in Miami Florida asked the permission to the U.S. Government to capture him).